Meet Our Border Collies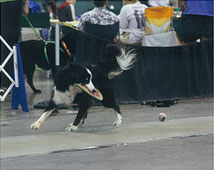 Agassi
Agassi: Birthday guess 8/24/2000, ASPCA rescue 2/24/2004. Fastest time 4.2. Nicknames: Senor, Ags, old man. Obsessive over balls and frisbees. Started learning flyball at 6 and took a year and a half to train. Debuted as a veteran. Part of the 1st place vets team at Can Am 2009. Although he will never admit it, he is very protective of his little adopted sister Jones. Owned and operated by Ben Hill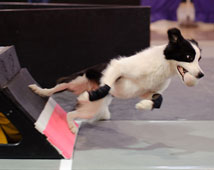 BadaBing
Quicksilver Eye Candy "BadaBing" Titles: FGDCh.
DOB: 2/2/03. Best Time: 3.8 Nicknames: BadaStink, Stink-girl, the Clorox dog, BadaBrat. Most useful talent: retrieving the remote. Hates: people shaking out laundry, not getting her way Bing is adored by her owners, the Jenkins, and consequently, she is spoiled rotten. She is a constant source of humor and entertains everyone at every chance she gets. She is easily recognized by her piercing bark while waiting to race (something we are working on with limited success). She has matured into a great flyball dog and is also now competing in agility. She was Julie's experiment in training running contacts and the results are quite thrilling! Bing is a fantastic disc dog with amazing natural jumping ability. If you have a Frisbee, be careful where you hold it, as Bing is very likely to interpret any movement as an invitation to vault off your body! Bing passed on her wonderful temperment, structure, and working ability to her first litter, sired by Foxport Tex of Blue Cedar kennels. Visa, Nano and Cameo stayed on Fur Fun, Hijack is in Texas (Lonestar Ruffnecks), and Jive lives in PA (Hard Drive).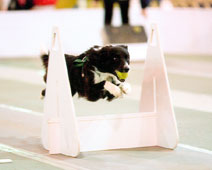 Brett
Brett UDX RAE OA OAJ OAP OJP OFP HSAds HSBs CL-3 ONYX AKA Brettowski. Brett is a black and white BC, born 12/04/00, who still acts like a puppy – we challenge any one to try to get his tug away on the first attempt. Brett has boundless enthusiasm for any task that he is given. He recently earned the Obedience title of Utility Dog Excellent. Brett also has titles in Herding sheep and ducks plus Agility and Rally. He is a recipient of the Versatility Excellent Award from the Border Collie Society of America. His best time is a 4.5 and he mostly runs on Veterans these days.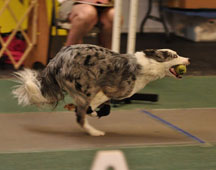 Dexter
Quicksilver Mr. Know-it-All "Poindexter" DOB 10/12/07 Titles: FMCh Best time: 3.68 Favorite Trick: "Are you an aussie?" Nicknames: Dexy J, Dexiterducken, Blueman, Dex-tard. Dexter is the product of the Shiner x Badger breeding and is everything we had hoped for. He has a happy go lucky personality, has never met a stranger, and lives to go FAST. It took a little while to teach this boy to control his body and use his powers for good not evil, but the hard work paid off. After 6 months of work in warm-ups, he finally connected all the dots and started running on Formula Fun, and is currently the fastest dog on Fur Fun. Dexter's other hobbies include backyard racetrack, indoor extreme couch ball, and doing crazy cartwheels to catch anything you throw. Dex is a very useful collie as well; from his grandma, sprint, he inherited the "pick up tiny things to bring you" and will fetch anything from a piece of paper or a coin to a big, clunky bucket.