Meet Our Border Collies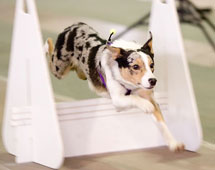 Flash
Flash, AD NA NAJ NF CGC TD, born 11/08/05, is a blue merle tri smooth coat border collie. He has been playing flyball since January 2007 and is currently working on his 60K. He also loves agility, frisbee and herding, but thinks flyball is the best. He lives in Fort Washington, PA with his mommy Lynn, daddy Andy, border collie brother, Quiz (who sometimes plays flyball, but would rather play agility, frisbee or go herding), and two Labrador Retriever brothers, 20 month old Casey and 13 year old Jake.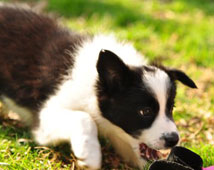 Glee
Quicksilver Sweet Harmony- AKA Glee, FKA Blackberry
Birthday: 01/25/11
Best time 3.9
Nicknames Gleeberry, Squirrel, Glee-wee
Glee is a petite little girl, often referred to as a miniature bob-tailed border collie. She is super sweet and eager to learn. She is loving flyball and can also be found flying through the air with the greatest of ease, catching discs. Likes: Visiting with friends, squealing like a monkey, watching other dogs. Dislikes: Swimming, believes she is made of sugar and will certainly melt.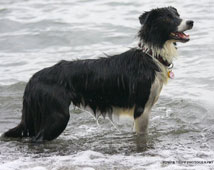 Jones
Quicksilver I Want It All "Jones" DOB 10/12/07. From the Shiner x Badger breeding. Fastest time 3.682. Nicknames: Joney, Ramma, Mouth. Currently the fastest dog on the team. Took a long time to mature and mold into quite a fabulous little girl. It has been said she is a lot like her grandmother Sprint. Owned and operated by Ben Hill.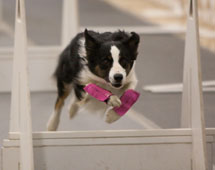 June
Contact Point's Ring of Fire MX MXJ OF RE PT CL3 AD ONYX
DOB: 5/3/06
AKA Junie, June Bug, June Carter Cash (after her namesake) and - for unbeknownst reasons – Rooney & Roo June is a black-tri BC who loves to run fast. Her best time is a 3.72, and she was part of the team that set the current FF record of 15.5. June is owned by Penny Leigh of Fur Fun South and was bred by Karen Moureaux of California. June also excels at many other sports and holds titles in Agility, Herding and Rally. She is a recipient of the Versatility Award from the Border Collie Society of America.