Meet Our Border Collies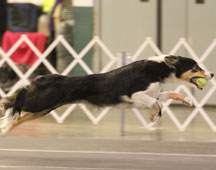 Joy
Quicksilver Wild Ride - "Joy"
Shiner x Motion
Nicknames: Happy Happy Joy Joy, Her Royal Tri-ness

Joy's name exemplifies her attitude towards life which she lives to the fullest.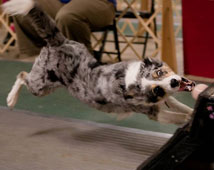 Shiner
Quicksilver First Light, OA, OAJ, FGDCH60K
Shiner (Shineroo, Shinosaur, Girlie-girl) is from Sprint's last litter, born in August, 2002. She learned flyball incredibly easily and has run consistently sub-4-second times throughout her career. Her best time was a 3.75. She is a noteworthy agility dog, and an effortless disc dog as well. She has also produced some amazing flyball and agility performers. She specializes in reading Deb's mind, and relies on that gift to succeed at all in agility, as Deb isn't much help as a handler. Her favorite activity is organizing the Norman household and keeping visiting dogs in line.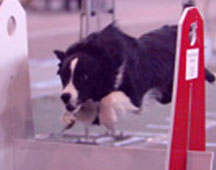 Sky
Quicksilver No Passing Zone FGDCh. Fastest time 4.0.  Sky is Rafe's first bc, and is also a Hustle / Winger son.  He does everything - disc, agility herding.  An all around kind of dog, ready to go when you say the word!
He still at 9 years old, runs 4.1-4.2 and gives it his all!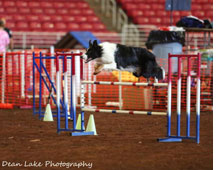 Lex
Contact Point's Pocket Full of Kryptonite NA NAJ PT
DOB: 12/14/2010
Lex is the son of FF team member June, and his sire is the 2012 AKC National Agility Champion, Zing. Like his parents, Lex loves to do everything FAST and is preparing to make his debut in the flyball lanes. A tall boy, Lex easily jumps 26-inches in Agility and is working on his intermediate level titles in AKC Agility. He also shows great herding talent, earned his PT as a youngster, and will soon enter the herding trial classes.