Meet Our Border Collies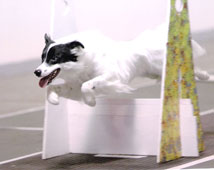 Lucy
Lucy FGDCH 60K. Best Time: 3.802. Nicknames: Sweetpea, White Lightning. In addition to her first love, Flyball, Lucy is competing in Agility and has shown a real potential for herding. Lucy is a very loving sweet-natured girl who is content to spend lazy afternoons lying in the hammock after a morning of chasing squirrels and rabbits. Lucy was rescued from the Philadelphia SPCA when she was 7 months old after being turned in twice. (Rose will argue that Lucy rescued her.) Lucy shares her home with her doting owner Rose, Snitch and Tam, and three cats that keep her herding instincts sharp.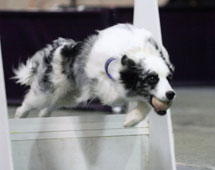 Razor
Orion Cutting Edge FMCh. Fastest time 4.0.  Razor is a little shy, but once he gets to know you you are his best friend!  He had a rough life, he and his litter were born in an emergency c-section,  where as a result of complications, his mother died :(  He was a sick little guy but once he got healthy there was no holding him back!  He is also a Race son, following in his long family line - he is flyball crazy!  He also likes to play a little disc, and shows nice natural ability on sheep.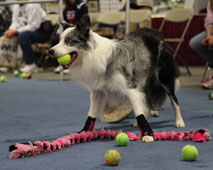 Snitch
Snitch (Quicksilver NYPD Blue)
Title:  FGDCh
Best Time:  Swimming in the Norman Pond
Nicknames:  McDreamy, Snitchy-poo
Snitch is the offspring of Shiner Norman, and everything one could hope for.  Snitch is Rose's Sunshine.  There isn't a day that he doesn't make her smile.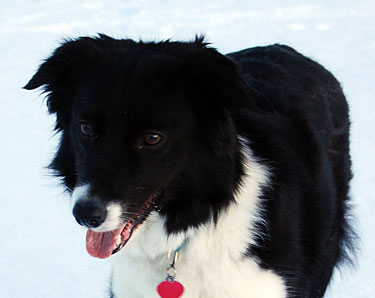 Treasure
Quicksilver Eye on the Prize, FGDCh, "Treasure". Born 2/2/04, Treasure is also known as "Treas", "Treasure Marie", and Little Miss "T". Treasure is Badabing's litter sister and Deb comments regularly how wonderful she is and how much she looks like her mama, Hustle. Treasure has turned out to be everything Cindy wanted in a dog. Cindy's agility instructor once commented that Treasure is the definition of drive, and she uses that drive quite effectively for flyball with her fastest time being a 3.80. Treasure loves to swim and if she sees water heads for it whether it's a pond, pool, or baby pool. After every race, Treasure heads straight for that pool. Treasure loves to retrieve and collects all the dog dishes after meals and brings them to the sink for Cindy. She also retrieves the remote control and Carl's slippers. Treasure is sweet, loving and nestles her head into Cindy's neck when she hears "I love you". Treasure is loved by Cindy and Carl Tier and lives near State College, PA.