Meet Our Border Collies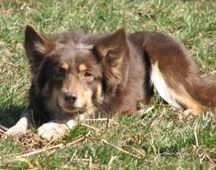 Pixel
Orion Dots Per Inch NAJ SG SJ FGDCh - fastest time 4.0. AKA the Red DEVIL!  Pixel ran her first tourney 3 weeks after starting flyball class, lets just say she was MEANT to play this game!  She is a BC height dog, measuring in under 16"  Everyone loves the pixie, but don't let that sweet look fool you! Pixel also competes in agility.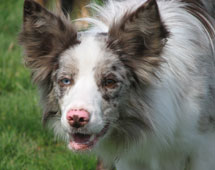 Sprint
Ignited Orion Racing Through Time FDCh "Sprint" dob 6-22-08 Sprint is our last Race kid, and named after Grandma Sprinty. She is also known as the Princess Puppy..she gets special royal treatment :) She is living up to her name and often channels her grandma..she takes things very seriously and hates it when the other dogs don't behave! But she also has a lot of her daddy's silliness. Sprint is still learning flyball- we have the jumps and the box down, now just need to put them together :) She also plays in agility and is coming along nicely. Her favorite part--weave poles! She has learned a little about disc, and herding. Princesses really don't like going to the farm, and think sheep are stinky..but goats are tons of fun!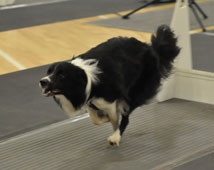 Tony
Tony
Bon-Clyde's Dreams of a Tony FMX CGC
AKA Tony Baloney, Baloney Head & Pretty Boy
Best time: 4.14

Tony is a young BC, born 09/18/07, who just recently started running full-time with Fur Fun. He LOVES flyball and definitely lets everyone know how much he loves it. Tony also likes herding sheep and doing agility but counts flyball as his fav sport. Other likes are tugging, playing in the sprinkler and snuggling.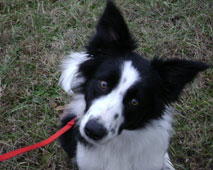 Venus
Rapideye's Game Set Match HSAs HSBs
"Venus" is a black and white Border Collie, born 9-9-2009. Venus comes from strong herding and obedience lines, and her mother is a herding and obedience trial champion. Venus is great at working the sheep and earned both her Started titles with high scores. She is training for the Advanced classes and the Obedience ring and hopefully will be Penny's first OTCH. We also discovered that Venus is CRAZY for flyball so now she is in training for the team and recently started doing some warm-ups.